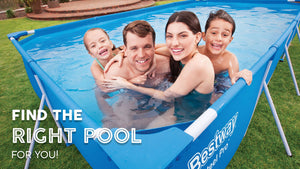 Types Of Portable Swimming Pools Available In India 2021
Are you feeling hot, sweating, and itchy? Surely, you are facing the summer season that brings lots of heat and cramps into your body. From heat cramps to heat exhaustion, you would face all heat-related illnesses during this season. So, all your effort is centered to get rid of this heating sensation and prepared to face the season. For that, one of the best approaches is to buy a portable summing pool. 
Swimming is the 5th most popular sport activity in the US. Undoubtedly, swimming helps in lowering stress and tension. This is the reason why people take swimming as the best activity to do. Not a surprise, but there are about 10.6 million swimming pools in the US in which 50.6% of InGround pools, 2.9% of commercial pools, and 47.1% of above ground pools. 
What are Above Ground Portable Pools?
Above ground portable pools are the best option to reduce the hotness and keep your body cool in these hot summer months. As compare to in-ground swimming pools, above ground pools are 3.5 % less expensive. These pools require plenty of water. As a calculative approach, 6 feet deep, wide and long will take a minimum of 1,600 gallons of water. To draw attention to buying these portable pools, you must go throw the following pinpoints:
These pools are affordable and easy to install.
They come in different sizes and shapes so you have choices to buy the best one according to your requirement.
They are easy to transfer from one place to another if needed.
For maintenance, you need to add adequate chemicals and also require checking the PH level of water.
Top 10 Above Ground Portable Swimming Pools to buy this summer 
It is a Power Steel ™ Comfort Jet Series ™ pool with a water capacity of 20,241 liters (5,347 gals.). Say thanks to your body by providing an awesome massage experience with the Bestway Above Ground Portable Pool.
Prime features of the Above Ground Portable HydroJet Pool are :
Corrosion-resistant metal frames for superior strength and durability
Seal & Lock System for users' safety and security
Magneto LED light offers extraordinary visual
Anti-microbial filter cartridge for longevity
Heavy-duty PVC and polyester 3-ply sidewalls ensures enhanced support.
This Bestway Above Ground Steel Pro Max Steel Frame Swimming Pool is another option to enjoy the summer season within your comfort. Easy to dissemble, this round-shaped portable pool is a great choice for enhanced stability and durability. 
Prime features of this ready-made pool are:
Steel Frame Swimming Pool Set with Filter Pump offers more compatibility
Heavy-duty PVC and polyester sidewalls for significant support 
Uncomplicated to install requiring around 20 minutes to setup
With 9,150 Liters (2,417 gals.) water capacity, it provides a nostalgic pool feel
FrameLink System™ to avoid metal to metal corrosion
A pool with a water capacity of 8,124 liters (2,146gal.) uncovers a significant opportunity to spend time with family. This Bestway Above Ground Steel Rectangular Pool comes with awesome functions to have a hassle-free swimming experience.
Prime features of this power steel rectangular pool are:
Available with built-in flow control drain valve for easy water draining
Corrosion-resistant metal frames to provide enhanced durability
Seal & Lock System ensures secured pipe connection
An antimicrobial filter cartridge ensures constant cleanliness
By acquiring less space, this Above Ground Portable Pool Set is truly made For Adults. Promising features of the pool offer an extremely amazing underground experience. It comes with a water capacity of 10,949 liters (2,893gal.)
Prime features of a ready-made swimming pool are:
Seal & Lock System for more secured underwater connections
Availability of corrosion-resistant steel frame ensures remarkable strength
Dispenser release to maintain a stable chlorine level
It is one of the most popular Bestway readymade portable family swimming pools with a water capacity of 19,480 liters (5,145 gal.). If you love hygiene and cleanliness, definitely add this pool to your list.
Prime features of this portable family swimming pool:
ChemConnect™'s chemical dispenser maintains pool water cleanliness
For filter water, it is available with Flowclear™ filter pumps
Flow control connectors manage connectivity of the pool
Seal & Lock System offers a secure underwater experience
Grab this Bestway Above Ground Portable Rectangular Pool Set to experience the most amazing scenario of swimming. During this hot summer, keep your mind and body relax with this water therapy.
 
Prime features of the Above Ground Portable Rectangular Steel Pool Set:
Polyester and heavy-duty PVC side walls with Corrosion-resistant metal frames
Dispenser release to manage the appropriate chemical balance
Enhanced safety and security for kids play
Super quality materials to ensure remarkable durability and strength
Add more fun and water games to the weekend party with this Bestway Above Ground Rectangular Power Steel Pool. Available with high-quality pool materials, this Rectangular Pool Set is best for Kids and Adults.

Prime features of the rectangular pool set are:
Easy to empty because of rust-resistant metal structures and a flow control drain valve
Steel frame provides maximum strength and durability
Available with a ladder for effortless entry and exit
High-quality filtering and extended lifespan due to anti-microbial filter cartridge
With a water capacity of 5,700 liters, this Bestway Above Ground Portable pool is the most affordable family pool.

Prime features of the Above Ground Portable Pool are:
Secure and safe connection ensures kids' safety
Plenty of room to play sports activities with family
Are you looking best portable pool suited to every family member's requirement? Buy Bestway Above Ground Fast Set Pool For Kids And Adults and say bye to hot summer.
Prime features of the Portable Swimming Pool for Kids and Adults:
Budget-friendly portable pool with water capacity 7,340 L
Two layers of high gauge PVC boost strength and longevity
Easy to install and simple to drain via built-in flow control drain valve
As a suggestion, do not forget to add this Bestway AboveGround Portable Fast Set Pool, especially For Kids, to the shopping list.
 


Prime features of the portable fast set pool are:
Trouble-free draining with Flowclear™ filter pumps
Effective support system by heavy-duty PVC and polyester 3-ply side walls Liner 
More powerful strength with layers of high gauge PVC
Final Thoughts
Evaluate the above-mentioned portable swimming pools when you are ready to make the payment. Scroll the features of Above ground ready-made pools and buy the best one. 
---