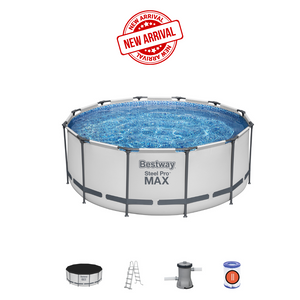 Bestway New Model
Size - 12Feet X 48inches
Water Capacity : 10,250 L
Contents: One pool, filter pump, ladder, pool cover, repair patch
It doesn't get any better than having your very own pool in your backyard! The Bestway® Steel Pro MAX™ Above Ground Pool offers an ultra durable option at a great price.

Durable Construction:
The durable steel frame is equipped with our FrameLink System™ for a sturdy and secure frame connection. The frame connectors also prevent metal-on-metal contact to ensure corrosion and rust resistance. The sturdy DuraPlus™ liner is made out of an ultra-durable 3-layer material that is reinforced for strength and puncture-resistance. DuraPlus is 15% more tear resistant, 33% more stretch resistant and 83% more puncture resistant than standard PVC, ensuring your pool will last summer after summer.

Additional Features:
This above ground pool set also comes stocked with a filter pump, a ladder and a pool cover. Plus, this pool is very simple to set up and to take down for off-season storage. No tools are required, and a hose connects to the built-in flow control valve to quickly and easily drain away pool water.

Spend your summer on the water in this Bestway Steel Pro MAX pool!
Bestway® Steel Pro MAX™ Pools offer a high-quality option at an affordable price compared to other above ground pools on the market. The mosaic liners provide an attractive look and nostalgic pool feel. Assembly is a breeze, and pool owners can easily connect the frame pieces until they hear a click. Families can enjoy Steel Pro MAX pools for many seasons to come, due to the durable, puncture-resistant DuraPlus™ liner and corrosion-resistant steel frame. Steel Pro MAX pools are affordably high-quality with design touches that will be loved by many.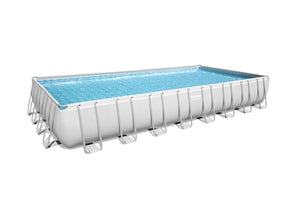 Bestway Above Ground Swimming pool
SIZE- 31.5 ft x 16ft x 4.5ft
Bestway® Power Steel™ Pools are the prime choice for families In India due to their reinforced steel frame design engineered for maximum strength and durability. Plus, no tool assembly makes these pools a great option for backyard pool needs. The durable, puncture-resistant Tritech™ liner and corrosion-resistant steel frame with Seal & Lock System™ make this pool series strong and sturdy for backyard use all season long. The rectangular shaped models provide the largest pool surface area for large groups and families to all use together.
Our Top selling Products
Rectangular Metal Frame Swimming pools
Bestway rectangular swimming pools are the most hot selling readymade pools available in India starting just at just Rs10000
Bestway Fast Set Pools
Easy, fast and a great size for families, Bestway® Fast Set™ pools offer a convenient option for backyards. These pools are hassle-free & only require a flat surface for set-up.Simply inflate the top ring and it's ready for water within 10 minutes! The Fast Set pool will rise as it's filled with water, making set up quick and easy
LAY - Z -SPA Portable jacuzzi
Lay‑Z‑Spa , the India's best‑selling inflatable hot tubs easy Automatic installation and Airjet and water heating system, you can relax and enjoys in your own very own spa athome.
inflatable jacuzzi come in a variety of designs and sizes, to suit your needs
Our Brands
POWER STEEL
Bestway's In India offers a  diverse range of Power steel Pools, garden and beach toys are enjoyable accessories for both young and old. Simple set up in 30 min and watch as family and friends enjoy around, splash around on a pool float or even turn the garden into a FUN ZONE .
PORTABLE JACUZZI & HOT TUBS
Start Your weekend relaxed or soaked in the evening with all new Lay‑Z‑Spa, the INDIA's Best‑selling Portable hot tub Jacuzzi. With premium construction, easy installation and advanced features, you can enjoy the luxury of a 5 star resort from the comfort of your home or garden. Available wide range of uniqe Features designs, shapes and sizes, you can Choose the hot Tub spa that is perfect for you.
PREMIUM INFLATABLE AIRBEDS & MATRESSES
with the Bestway India Airbeds and Inflatable Furniture ranges Get a great night's sleep . Simply unpack, inflate and unwind. In just three simple steps you can enjoy the entire Bestway inflatable furniture and air bed range. Totally portable and packed with the latest in inflatable technology,
Bestway
YOUR FUN IS OUR BUSINESS™
Since 2011, Since Bestway Launched In India Our vision has been to create fun, lasting experiences for everyone in India through the products and services we provide. Since our humble beginnings, we have devoted our efforts to strengthening our research, design, development and manufacturing capacities, while continuously expanding our product and brand portfolio. Our products can now be found in over 110 countries across six continents worldwide.
We currently offer approximately 1,100 products in four core categories, including a comprehensive selection of above-ground pools and portable spas, recreation products, sporting goods, and camping products, designed to cater to a wide range of consumer groups and geographic markets.
In order to ensure customer satisfaction, every department in Bestway works closely to provide the best product solutions. This includes our technology centers, central laboratories, quality assurance centers, vertically integrated manufacturing systems, and our well-established after-sales service centers around the globe.
From The owner's Desk
We At Bestway Holds a Strong reputation for making quality products with high customer satisfaction. we Manufacture High quality Portable swimming pool with Tritec Pvc and metal frames that are durable and can last upto 12 years . Determining the strong rise in demand of readymade pools in India after Covid. we have delivered happiness to more than 25000+ family's in India with our wide range of best Metal frame and inflatable pools for kids and adults at a very affordable prices.




Arjun Rana